We are already 66 years old ...
Zakłady Podzespołów Radiowych MIFLEX SA in Kutno was established in 1957, beginning its manufacturing activity with simple radio capacitors. At present, the factory is the biggest manufacturer of a wide range of passive electronic components in Poland. The applications include home appliances, lighting, audio equipment, power electronics, electrical equipment and machinery (pumps, electrical tools, air conditioning), single-phase motors, compressors, and other uses.
MIFLEX SA uses a number of sophisticated methods supporting the production processes in order to manufacture high quality products, in accordance with European and international standards. Our products fulfil the requirements of European standards, including the RoHS Directive and REACH Regulation.
WHY CHOOSE US ...?
Our company's priority and mission is to provide our customers with products that fulfill their expectations and are based on high quality in accordance with our ISO 9001:2015 certficate as well as competitive prices.
We have a lot of experience, as we have been manufacturing electronic components for 60 years.
We are a manufacturer based in Poland; as our customer you support the market of European Union.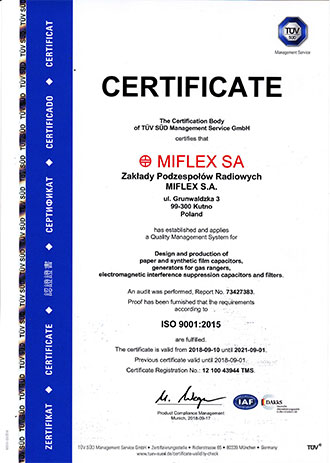 lSO 9001 :2015
Download